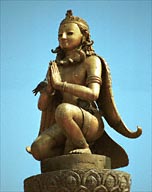 Kathmandu, page 2 of 4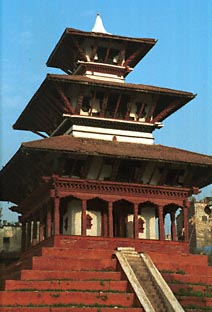 We visit Durbar Square very early in the morning, we were awake before seven! The light is bad (also here it is foggy before 8.30) and after Bhaktapur I am a bit disappointed by this Durbar Square. Here everything is much more commercialized, for example there are 'Sadhus' (wandering Hindu holy men, who gave up all their possessions) sitting in front of temples, demanding to be paid when you photograph them. Sadhus won't appreciate it to be included in my view of commercialization, because they have made the difficult decision to part with all their earthly property…
A lot more people try to offer their services to us and we still only like to sit somewhere and watch life going on. We try this on top of the Maju Deval, a famous temple from where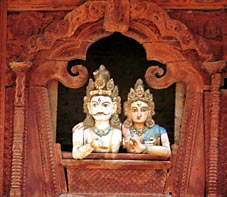 you have a nice overview. But we miss the peaceful atmosphere of Bhaktapur; maybe it had been better if we first visited Kathmandu and later Bhaktapur.
From the Maju Deval you can see part of the Basantapur Tole, a big square totally covered with all kind of souvenirs laying on clothes, for sale of course. We crossed this square without buying something – not too easy to do – and went to a small not very clean restaurant in Freak Street called 'Mona Lisa' to take some breakfast. After this we have enough courage to start our walk towards the south of Kathmandu on our way to Patan, we will walk next to the holy Bagmati river dividing Kathmandu and Patan and see all kind of interesting temples.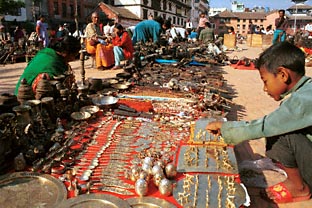 We did walk next to the river and saw all kind of interesting things,
but the temples were a bit very old… People living here are poor and the schools over here also are not too wealthy… We saw destroyed temples and stupa's, some gods painted totally orange, burning of dirt, a crematory, desolated houses, schools with their playing grounds against the river. It was as if we entered another world, a world I wouldn't care to live in…
As soon as we managed to arrive again in the 'real' world we took an auto-riksja to the other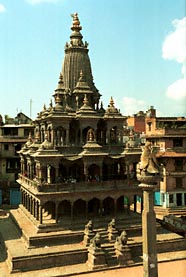 side of the river, to the center of Patan. After Durbar Square of Kathmandu, Durbar Square of Patan looked much more beautiful, not so much traffic, not so many people and so a lot of time to look at all temples. Because wherever you are, in Kathmandu, Patan or Bhaktapur, you see an enormous amount of temples, mostly Hindu. When you travel around in Europe you learn to be enthusiastic when you see a single beautiful Roman Church, but here in the Kathmandu Valley you see interesting temples everywhere you look! You get used to it quite soon of course, after the first astonishment. But now, when I watch all pictures again, I am totally impressed again and it won't abate now!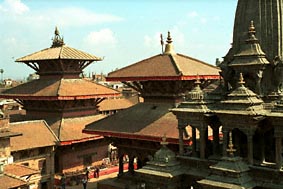 You can see some of the temples on this page; I liked especially the 'Krishna Mandir' temple of (kind of) white marble. It reminds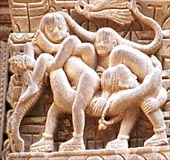 me somehow of one of the drawings of Escher: many arches repeating themselves on different levels. The protecting 'Garuda' statue I like also, the way it is sitting quietly with a golden smile high above daily life.
Today we again saw erotic carvings, both in Kathmandu and in Patan. Jacques will never again have the nerve to complain! For the broadly interested cultural reader I will show some examples of the Jagannath temple, and the Royal Palace on the side of the Basantapur Tole in Kathmandu, and the Jagannarayan temple in Patan. Further on this pages you see a bit shocking detail of the Bachhareshwari Temple in Pashupatinath next to the holy Bagmati River, it was difficult to find this temple as you can read further below.
---