Jaipur, page 2 of 3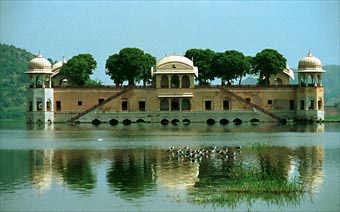 When we go on to Amber fort we pass the 'Jal Mahal', the Water Palace. The building itself is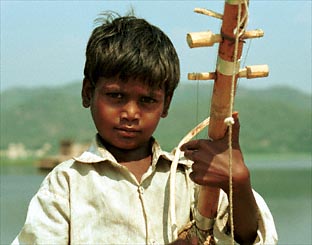 nice but not really beautiful, but its position in the middle of the lake is so much like a fairytale, we would expect it to be not real at all but part of some enjoyment park! Only the flying carpets were missing – but the snakes and the flutes were there. I don't photograph them, a matter of principle.
But, no jokes, this fairytale atmosphere is very real and we even get life music from a self-made violin, played by a charming boy. No we didn't want to buy the instrument but we did like to make a picture, I couldn't help myself, he played so charmingly so I found he really earned his money. Important not to stimulate begging…
And then we went to Amber Fort. We could
climb the fort with elephants. Our LP calls it already daylight robbery at 250 roepies per elephant one way, but now it costs 400 roepies so we don't dare to take the elephant in case LP will be very angry with us!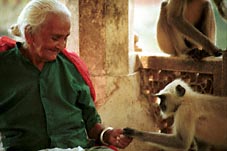 Anyway the walk was nice, there were lots of monkeys and I enjoyed myself with taking photographs. An old woman was feeding them, and the closer we came to the fort, the clearer it became that the monkeys are in possession of the whole fort. They feel completely at home here
and are even fucking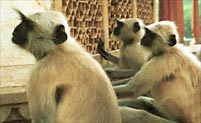 in front of the eyes of many interested tourists - ever saw an Indian girl who watched (monkeys) fucking for the first time of her life? But of course I wouldn't dare (yet) and here they are, two seconds later and behaving as if nothing is the matter and of course nothing is the matter! They are watching their surroundings as interested as if it was there first visit here in Amber Fort!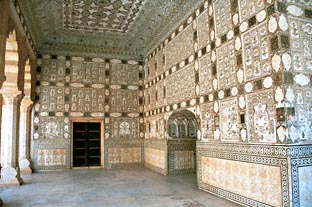 Amber Fort was built in the middle of the 16th century by Raja Man Singh, the Rajput commander of Akbar's army and later completed by the Jai Singh Maharaja's. In India
everything is very beautiful indeed, and these interiors are interesting to everybody because of the inlaid panels and all the glittering, as in the 'Jai Mandir', the Hall of Victory. There is so much light reflected by the white marble and the glittering mirrors that I worry about the light measurement of my photo camera, usually
inside you have almost no light but now there is plenty, incredible!
The fort is built on a mountain and you can look down on the palace gardens in the middle of the lake, very regularly looking from here. The white lines are paths running between green borders. A bit of the fairytale is still staying in my mind!
Jacques and I are constantly very popular, even on the most impressing places the tourists look at us and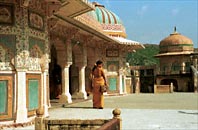 want to take pictures of us, and this is surely not due to our stunning looks! Below an example of the attention I get from whole families when I try to make photographs, in this case I had to change my target!
When we went back we took the bus, to compensate for our very expensive behavior and indeed, we only paid a couple of roepies. Of course even now they (= The Indian People) tried to rob us in asking three times the normal price. We paid double thinking we are happy you are happy everybody happy, but some
French girls traveling in the same bus were not happy and insisted on paying real LP prices. This resulted in us all being thrown out of the bus somewhere halfway, conveniently close to an impressive row of auto riksja's, whose drivers were awaiting us!
Back in the hotel we lazily drink some partly frozen Godfather beer (the strongest kind we can find here), listening to enthusiastic parakeets and looking at beautifully colored doves. I've never seen this kind before, with silky glowing pink and purple spots on their wings. Even more beautifully colored peacocks laze about showing their feathers. They are completely free and start exploring their territory now the sun is almost away. There are no tourists around, but we get company from a lot of soldiers, who put their bayonets to the tree next to us.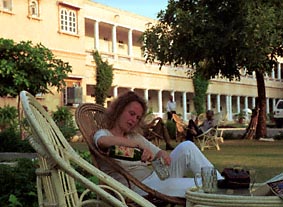 Very cozy. They are protecting some General that stays in our hotel, in the same wing in fact. Good for us, for now we have not only full time protection but also warm water when we take a shower!
The hotel looks beautiful in the late afternoon light, it changes color from soft yellow to deep pink, like the center of this pink city. We feel very relaxed. It is a strange idea that a distance of only 200 meter can bring such totally different experiences of life in India.
---