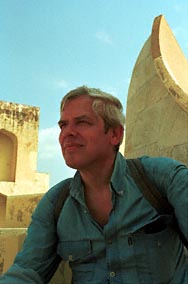 Jaipur, page 3 of 3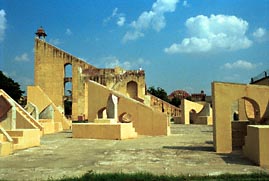 Today we visit the Jantar Mantar, the observatory built in 1728 by Maharaja Jai Singh, the same one that built the observatory in Delhi. Very impressive, this strange formed buildings in a seemingly random order. In fact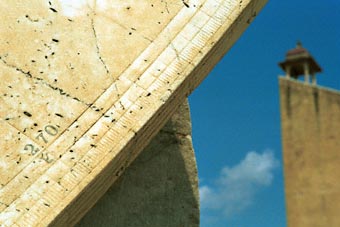 the orientation is carefully chosen, dependent on the position of the planets or galactic centers that are observed. When this observatory was built they didn't have telescopes yet.
Maharaja Jai Singh was obsessed by astronomy and maybe also a little bit by astrology, unlike in our society astronomy and astrology seem to go together easily like with the Maya's in Mexico (look at Copan, sorry, Dutch only). A separate construction is made to perform measurements for each sign of the Zodiac. The sundial is 27 meter high and the shadow of the sun travels four meters per hour on the marble slopes you see on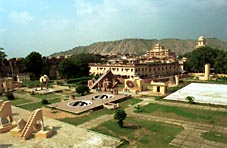 the picture below to the left.
Do you see my shadow; I am waving at you! It was a steep climb, very high steps on the stairway! And it was very hot, I won't bore you with repeating this information over and over again, but with everything we did we
were really troubled by the heat.
From over here I have a nice view, as you can see on some of the pictures on this page. You can look to the City Palace and the Palace of the Winds is also close by, we are going to visit both in the afternoon.
And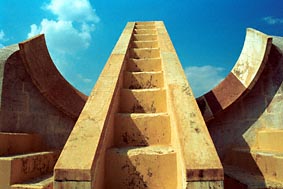 then we head for the Palace of the Winds, taking a shortcut. We always try to find locations by ourselves, and I don't like to take big roads.
That means I try to interpret any map and this usually ends in very small streets (just as intended). When we travel by car it are mud tracks that stop somewhere along a mountain slope and when we're by foot it is not less interesting and we visit smaller and smaller streets going into neighborhoods you wouldn't visit if you'd only known beforehand… At least 15 kids overcome their surprise at finding us here and try to
guide us out to where they suppose we wanted to go originally.
To be honest I like this rambling around so much that this is the real reason I don't want any riksja driver preventing us from coming in this kind of problems! I'm sure it's better to lose your way over here than in Amsterdam or New York, what do you think? But I would do it there also I'm afraid…
OK, we arrived at the Palace of the Winds.
'Hawa Mahal' is certainly worth a second visit, but from the inside you can see almost nothing, because the building is just a fašade. This fašade is five floors high and contains 953 balconies and alcoves! Through all the windows ladies of the Royal Household could look at the street life without being seen themselves.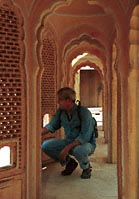 Think about how bored they must have been - not having any computers and so! But of course lots of time for gossiping ('And, what did you think of him last night? A bit over the top, don't you think?'). The Hawa Mahal was built in 1799 by Maharaja Sawaj Pratap Singh. To the left you see Jacques, imagining he is a concubine? Not very successfully luckily!
At the end of the afternoon we visit the City Palace. The palace is a mixture of post-Mughal styles. Jai Singh (the Maharaja of the Jantar Mantar astronomical buildings) built it, or at least he started the outer wall. Unto today the son of the last Maharaja is staying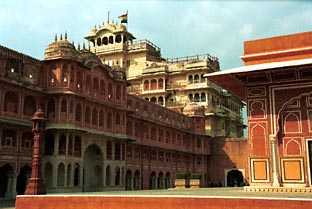 there! We learn a good deal more about Jai Singh II in his museum. We didn't want to, but some guide volunteered and explained – without being asked but very entertaining – about Jai Singh, his interests in scientific things and in art, showed us his picture, a quite refined man different from his forefathers which were more of the fighting and drinking kind! Somehow Jai Singh II became a person and not only a name for us.
In the City Palace
we found two enormous silver vessels, see the picture below. Of course we were intrigued, and we found out that a Maharaja used these vessels when he visited Europe. During this visit he didn't want to run any risks by drinking foreign water and so he took holy Ganges water with him in two vessels, each containing 9000 liter! In fact we understood
him perfectly well, because we are carrying water all the time. Only we do anything to prevent drinking Ganges water! You will understand why as soon as you've seen the Ganges part…
A very friendly riksja driver brought us here in the center of Jaipur (we didn't went walking again...) and manages to bring us back again to our hotel. I don't understand how they succeed in finding us again, but I guess that tourists always do the same tour so it really isn't second sight that brings this riksja driver right in front of us again and again (but I'm not completely sure)?
I like the man a lot because he isn't pushy and only shows us a book filled with recommendations of tourists, all very positive. But he really is a pleasant change and so I have to tell you there are really very modest and very friendly and totally reliable riksja drivers and we will even meet some more of them! To be honest: the difference in culture makes it very difficult for us to behave all right to them, we don't understand Indian people half of the time or even less, even when we all talk English very well. It is a strange thing how you have to know each others culture and background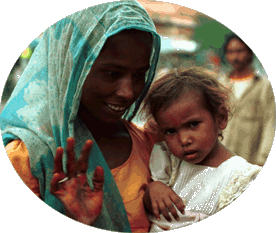 before you can communicate easily and without terrible misunderstandings. But of course this is much to serious and out of the scope (which scope?) of this story.
The following morning we take the bus to Agra.
---