Jaipur, page 1 of 3
Jaipur
We arrive in the afternoon and find a quiet hotel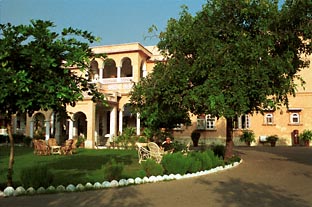 with a colonial atmosphere near the railway station. We can walk easily to the hotel (at least, without baggage and with normal temperatures it would have been easily), this is handy to avoid all touts that offer spectacular low prices to drive you to the hotel of their choice.
When you are preparing your travel, nice and safe at home, you tend – or at least we did – to think that it can't be that bad with the touts. Of course they like to bring you to a hotel of their choice, where they get a nice commission, but just be firm and resolute and you won't have serious problems.
And that is true, mostly. But it really is very difficult to stay firm and resolute when you are terrible hot, absolutely exhausted and unable to breath because you are beleaguered by touts. Plus you not only have to be firm and resolute, you must also stay polite. Indian people are shocked when you loose your temper, and as a reaction they can be even a bit aggressive. Normally in India nobody is aggressive, but when you lose all civilization they do too! We found it extremely difficult to combine staying polite with being firm and resolute, but somewhere in Agra (our next stop) we found how to do it out of sheer desperate necessity.
Late in the afternoon we went to visit the pink city; I especially wanted to see the 'Hawa Mahal', the Palace of the Winds. We were determined to walk this
time, and indeed we walked. Many many riksja drivers informed us that it was very far to walk to the center, but we kept going. It was a very interesting walk, Indian life just as real as you could want it… People everywhere around, much noise of the hooting auto riksja's, all kind of transportation possibilities pass by and when you are a tiny bit dirt sensitive you will be freed of it just by walking over this streets – at home it can never be that bad! We pass market stands and with the late afternoon light the atmosphere is like that of the bible, things haven't changed in 2000 years. Just look at this picture!
Not everybody enjoys it when I take pictures and I have to dive real quick to escape some flying potatoes… Of course I really should ask first when I take a picture or at least I should take it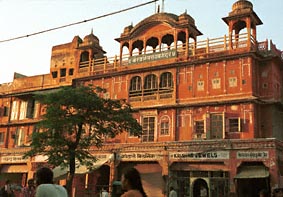 quick and painless (I always complained that much when my Dad took ages to shoot a picture and now I'm doing it myself!). In the evening light the center looks beautiful, all pink and a little bit forlorn, which adds to its charm. But we're still walking in a very big crowd and yes, after about one and a half hour we found out that the riksja drivers were right this time: the center was certainly very very far! I despaired if I still could see the Hawa Mahal in the evening light, but at last very suddenly we saw the incredible building.
We were standing still for at least five minutes and that is far beyond the upper limit of being jumped upon. So we could for free climb upon the building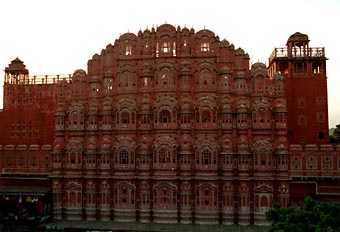 at the opposite site of the street and watch the Hawa Mahal. Of course I couldn't decline this. So we went up, I made some pictures, we escaped the first and the second shop and OK, we visited the last one only for a very short time. You can't disappoint a tout that has shown you such a beautiful view. They were dealing in sarongs and stuff and even if they were terrible expensive – also for Western standards - you needn't buy, but they can show you how to wear a sarong and you can drink some terrible sweet thee and than somehow you have bought the sarong. OK for only half of the first price – but still very expensive – and it didn't suit me at all but yes it is very original. Or something. So never buy sarongs in front of the Hawa Mahal but anyhow you can't help being cheated at least once during your Indian travel – so why not now!
Back to the hotel,
where we enjoy an expensive beer (I'm afraid by now we are totally spoiled and we don't mind if some servants have to walk miles first to find us and than to serve us wherever in the luxurious garden we prefer to settle down), we take some time to change the system. For a start we wouldn't allow two-stroke motors, which pollute the whole city in a terrible way. So our government wouldn't allow two-stroke motors anymore, but we would sponsor four-stroke motors and be sure all old two-stroke auto riksja's would be changed. I have to say that I didn't knew Jac again, always so definite plying for the freedom of the individual, doesn't understand why the government wants him to put his belts on, next time they want him to put also a helmet on in his own car… But now for once we very much agreed that any government action would be fine, to spoil your city like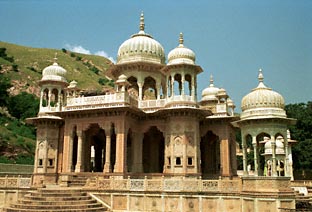 this is really incredible for us!
The following day we make a trip outside the city, to Gaitor and to the Water Palace 'Jal Mahal' and last but not least to the Amber Fort. We find an auto riksja who is willing to take us for a very reasonable price and - more important - we succeed in keeping it low. So don't allow nephews of the driver (who doesn't speak much English, which is exceptionally but very fortunate) to join us for detailed explanation, and don't agree with deals involving waiting and driving back from Amber fort. Anyway, it is an extremely beautiful outing and on this pages you see a lot of pictures from it.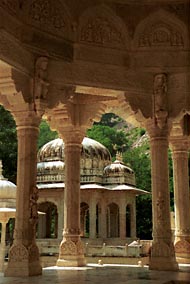 In the Royal Gaitor are several cenotaphs of the Royal family. A cenotaph is - to put it simple - a sepulchral monument without corpse. Very beautiful buildings of white marble where Maharaja Jai Singh II is resting (or not), the one that build all astronomic buildings. It is very quiet over here and so beautiful you don't understand why it can ever be so quiet. But we just enjoy it and let ourselves be amazed by the carved figures and again the curved roofs, peaceful and so cool white that we forget to be hot. Up on the nearby mountains there are a lot of stairways leading to old forts and it feels like Greece, only so much more of the buildings is standing and completely intact (sorry Greece – we are just people lacking imagination).
---