Varanasi, page 3 of 4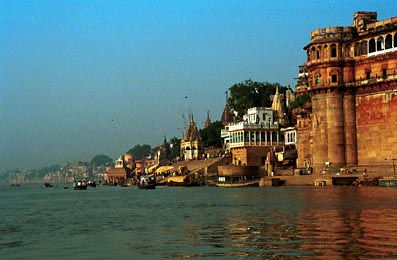 Now it is more than time to tell you about all the pictures of the Ganges you can see on this pages. As said before, Varanasi – the City of Shiva, is a holy city that is situated on the bank of the Ganges, the sacred river. By bathing in the river you can wash away all your sins, at least when you are a Hindu. When you aren't Hindu you prefer to keep your sins when faced with the choice to take a bath in the Ganges, but lets not start to be sarcastic. Anyway, the man that rowed our boat explained tactfully that it was simply not possible for the holy Ganges to be dirty, a kind of contradictio in terminis. Or for mathematicians: an axiom.
A boat tour on the Ganges at dawn is one of that 'musts', as you can read in every guidebook and as you are constanly reminded of by riksja drivers. At five in the morning I'm usually not at my best (I can see Jacques thinking that this is the understatement of the year). So if I do try to leave my bed that early, I really must be convinced it is worth while. Luckily - like all tourist 'musts' in India - this boat trip was really incredible beautiful and impressive. This was for me the most fascinating part of our whole travel, and maybe you understand what I mean when you see the pictures on this page.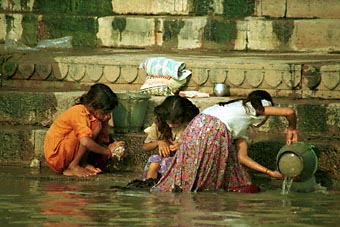 A 'Ghat' is a place where stairways lead up from the city down to the river. The Ghat ends in the water of the Ganges, where you can step into boats. Or, of course, take your bath!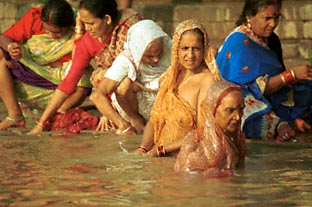 Varanasi has many Ghats, amounting to a couple of hundred in total. Most of the Ghats are places where you take your holy bath, but a couple of them are dedicated to cremating (dead) people. When you are Hindu you believe in the sequence of being born again to improve your way of living, if I can say it this simple. You can see every life as a new chance to learn things you didn't learn before, but of course one time you get tired and you like to escape from this cycle and you really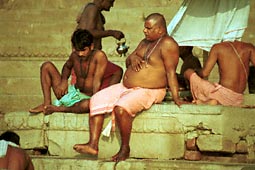 look forward to eternal rest. There is only one way to accomplish this, and that is when your body is burnt and the ashes are thrown in the Ganges. But of course you must have had your chance in lifes, so you can't do this for example with small or even unborn children. They need a rebirth to live again to get a chance to improve, or this is how I interpret it. So small children and pregnant women are not burnt, but are thrown into the middle (I hope) of the Ganges.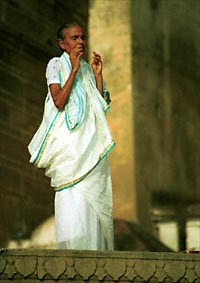 The real burning is done on wood; you can see good burning also in Pashupatinath in Nepal (and even photograph it, which isn't allowed over here). Now, in modern times, the government is trying to make the burning more efficient and they made 'modern' crematoria. They made only the big mistake of burning many bodies in the same time, so you never know which ashes are yours. And of course this makes it very difficult to be sure you're ashes will be deposited in the Ganges and you won't have to be born again. So everybody with a little money still wants to be burnt on wood.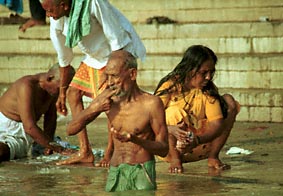 When we start our boat tour – sorry Jacques, I wanted so much to be on the water I couldn't take the time for proper price fights – the sun is rising just above the Ganges. And then the light is magical; the sun is shining directly upon our side of the river and everything is shown in a hazy, yellow light. Upon the waterside you have a mixture of buildings, none very old since the city is destroyed many times, but however you get the impression of an ancient city. It has something very old but at the same time something
timeless. How peculiar to see that so prosaic things like bathing and brushing your teeth and washing your clothes can carry such a load of timeless being.
The light is mysterious: it is both revealing and hiding things. The buildings seem very different than during daytime and suddenly I see buildings that remind me of tiny harbor towns in Greece! We see temples drowning in the Ganges – and bulging dead cows also, but I have promised to keep quiet about any presumably pollution of the sacred river! You see all kind of buildings, beautiful palaces and very standard flats with balconies completely covered with a wire fence to protect things from the apes who like to investigate everything (I can know!). Jain temples, bounteous decorated with ornaments and painted all kind of colors, alternate with Ghats full of boats and small market stands with all kind of parasols as protection against the heat.
The buildings are special, but the people are much more special. The people are the essential
element for the eternal feeling you get in Varanasi. They are bathing, swimming, discussing, praying, and washing their clothes etceteras exactly like they must have been doing 2000 years ago. Even the discussing of politics seems not to have changed a bit. You can destroy buildings, but this people are still exactly like they have been thousands of years before. When I photograph this women and men, praying and bathing, they seem to live forever. Which is of course the whole idea of Hinduism, so maybe I really got converted?
---