Chitwan, page 1 of 3
Chitwan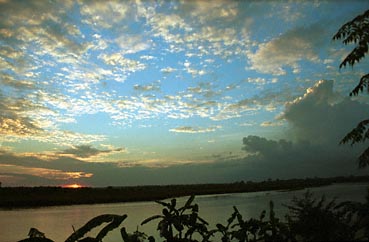 Arriving in the dark at the border of Nepal in Sunauli, after 12 hours of traveling instead of the promised 8 hours, we weren't in the mood to spend much time with the customs. We got out of the bus in a very muddy street, where an enormous amount of trucks coming from Nepal tried to pass an equal amount of busses from the India side. Jumping over dirty puddles we tried to find the right places to perform the formalities. In the dark we missed our first checkpoint and walked directly onto Nepalese ground! Luckily a lot of helpful Nepali warned us; we weren't the first tourists to walk past this obscure building.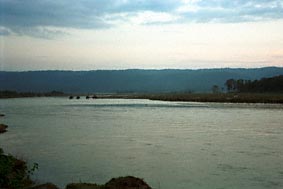 The second checkpoint we found a little easier, but only a small red bulb provided some light here. The electricity was almost down for a change so the light dimmed more and more. It was a very funny sight! These five officials in their costumes, sitting at an impressive table with the faint red shine lighting the scene, creating a kind of cheap whorehouse atmosphere (known from B-movies of course, not out of my own experience!). At last there wasn't enough red light left to read anything let alone the small green papers we had been filling in, a special hobby of Jacques (grumble grumble). The officials asked us tourists if we had a torch and they were very impressed by the torch Jacques found in his backpack. When we told them how little this torch costs in Holland they were ready to keep it, something we couldn't agree with because it was our only one and it looked like we could make use of it more and more!
The officials concentrated on our little green papers. Mine were all right, but Jacques papers got a lot of red stripes on them. No points. My fault of course, I had written both mine and his because of the small amount of light (and because of the grumble grumble). I didn't invest much time in writing nicely!
Why my official was completely satisfied remains a mystery till now! After Jacs' official was ready with trying to copy Jacs' name and address we were free to look for a hotel.
Our first impression of hotel Paradise was already not so good, but it was dark and we were very tired and so we hoped it wouldn't be as bad as it looked. It was worse. The room was very hot and stuffy. The rotor distributed more oil over our beds than fresh air, so we had to put it off. There was no water in the bathroom, so we asked if we could have some water - and sure we got it! The toilet never stopped anymore with a sort of choking noise, which seemed to belong more to the underworld than to paradise! Furthermore the shower, the washbasin and the toilet started to leak water in large amounts. For the rest of our night I will spare you the details - except maybe that I had a fever and pain in my throat, a result of all the air-conditioning and/or the draft in the bus. And plus this night was the only night both Jac and I got diarrhea; probably caused by the nice dinner we enjoyed downstairs...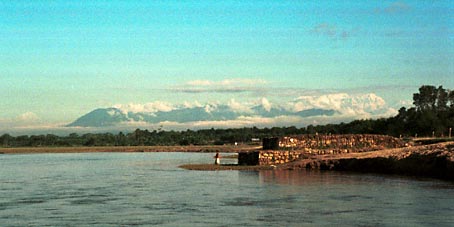 So we rose early the next morning to find a bus to Chitwan National Park and change some money. Now everything went surprisingly smooth and a small hour later our bus left, exactly at the right time! The chauffeur made up for this by stopping at every bus-stop he could possibly find, touring into a village over a very bad road only to make a 360 degree turn at the roundabout in the middle of the village and to leave it again over the same very bad road, pausing whenever he saw somebody he knew and liked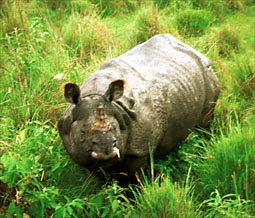 to talk to - which happened to be often and he took his time!
The landscape started to be very beautiful, hills on both sides of the road, valleys with steeper and steeper walls. After 5 hours we arrived in Tadi Bazaar, this is as far as you can come with public transport. Transportation to Sauraha, a small village almost in the park where we intended to stay, proved to be a little problem. A river crosses the road to Sauraha. There is a small bridge over this river, but you can only cross it by foot or with a bike. Another possibility is to cross the river with a jeep on a shallow spot. This is an ideal place for touts, because there are no alternatives for the jeeps they offer. So you can't get a ride unless you agree with going to a certain hotel - or at least looking at the rooms (ever tried to escape without taking a room in this kind of situation?). A lot of trouble was taken to explain to us that every hotel we named was completely full with tourist groups and was anyway much to expensive.
So we went walking – of course it was extremely hot in the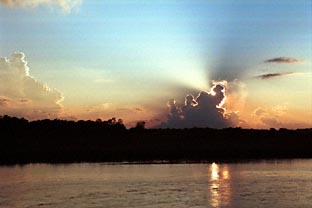 open field and we aren't used to walking with backpacks. I was rather happy when we met a boy on a bike who was going to fetch some tourists and promised he would come back with a jeep for which we could pay the Lonely Planet Price without having to go to a certain hotel. And he kept his promise, arrived after 20 minutes with a jeep and only said that of course we could have a look in his hotel when we wanted, but we didn't have to!
The first hotel on our list was indeed filled up with groups, but the second hotel, beautiful situated next to the river and with a view on Chitwan Park on the other side, still had some place. The manager was very happy with us and gave us discount after discount; the only thing we had to do was keep silent and look around in the room. He explained to us he could organize all our jungle activities and of course also busses to Pokhara or Kathmandu. He showed us the booking office, but didn't press us too much and was in fact quite friendly. After two days he wasn't so friendly any more, because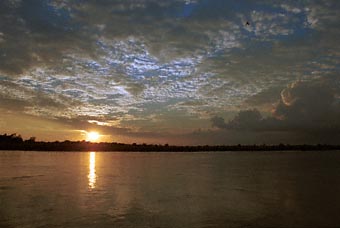 we did all our booking directly in the park. This wasn't difficult, since the entrance of the park was only some 50-meter behind the hotel and all the guides were sitting next to the hotel with an excellent view on the tourist drinking beer on the roof terrace.
This afternoon we did nothing any more, I still had a fever and we were kind of exhausted after two days busses and one night Paradise. But fever or not, when I saw the sunset I had to make some pictures. From the roof terrace we had a beautiful view all over the river to the jungle on the other side, elephants returning from the reserve crossing the river, the red disappearing sun. A lot of tiny clouds were afire with light varying from yellow to red to dark-blue. But I don't have to try to describe it, just watch the pictures on this page!
---