Bhaktapur, page 3 of 3
During the first hundred meter of our walk to the temple of Changu Narayan we need to convince some boys, ready to guide us, that we really don't need guides. And that we don't worry of walking twice the distance, which we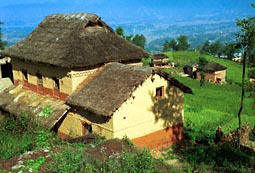 are sure to do without guide (the poor boys can't know my instinct for shortcuts…). And that we don't worry of losing our way. At last they let us go, while informing us free of charge that we already are taking a wrong turn! We oblige them by taking the trail they advise and are very happy with the peaceful silence
that encloses us now. The Kathmandu valley is almost totally covered with fog, you can see only parts of it, moving with the wind. On the other side of the mountain ridge we are walking on top of we can look in a valley with the very old Newari village Sankhu inside and the Himalayas at top of it! It is an easy walk through some pinewoods, over this mountain ridge and through small Chhetri villages with houses distributed evenly over the slope, perfectly fitting into the landscape.
After one hour walking we see the golden roof of the Changu Narayan temple far away shining in the sun, so we know we are right on track. This golden roof works as a magnet, if we didn't intend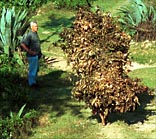 already to visit the temple I'm sure we would have done it now anyway. A mother and her girls are working in the fields and we pass by over our very small trail, which is by now only 15 centimeter wide! I make a photograph of the girl; she looks so serious, as if with her fourteen years she knows already all about life. But then she asks some money and she looks like a child again when she thinks she doesn't get enough!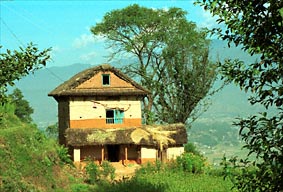 The Changu Narayan temple is surely happy with our visit! Not too many tourists visit it, at least not by foot, because we won't count the busload of Dutch people who are let out of their bus half an hour after we arrived there. We were very lucky with this repose of half an hour, somehow Nepalese temples look quite different without (other) Dutch people trampling and screaming around – do I scream as much (not when I'm taking pictures at least!)? Now the temple was quiet and impressively beautiful, protected by lions, full of intriguingly carved roof studs with many armed Goddesses. I understand by now the Hindu Gods have many arms and many heads to make explicit their many different abilities and also the many contrary possibilities they have within their character.
We take a local bus to Bhaktapur – very cheap and very slow, but we can't complain because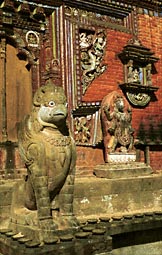 according our LP there wasn't any public means of transportation - check out of our hotel and leave for Kathmandu. Now we take the trolley bus, much faster and less crowded than the normal bus again according our Holy LP, where-in it is stated that to take the normal bus is only fit for the poverty stricken or for masochists! In fact the trolley bus is indeed not crowded and we pay almost nothing (the bus is only less than a guilder cheaper), but the faster is not so sure!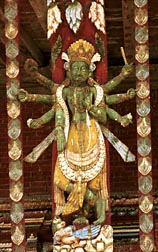 It leaves soon enough, but the tempo is not exactly high and now and then the driver stops and looks at the electrical wires on top of the bus with a worried face. We don't pay much attention, this carriages look so extremely old we don't worry they will stop exactly now with functioning! Instead we focus on some student girls who enter the trolley bus, clothed in beautiful blue with white robes that look kind of dirt sensitive,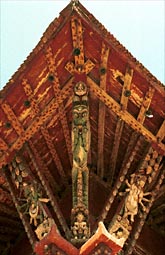 we wonder how they are able to keep themselves so clean, something we pondered about a lot already in India amidst all the dust!
Alas, our trust in old rusty machines is not rewarded and the trolley bus stops finally some kilometers before the center of Kathmandu. Nobody announces any problem, but when everybody gradually leaves the bus we understand there isn't much use to waiting! We walk a little bit and catch an auto-riksja, that charges us a lot of money to go to our expensive hotel, although later on we paid much more for smaller distances to our hotel. More about our expensive hotel and of course about Kathmandu on the next page!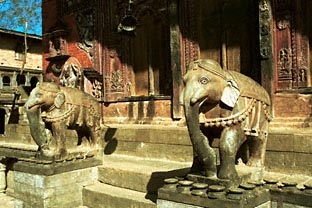 ---