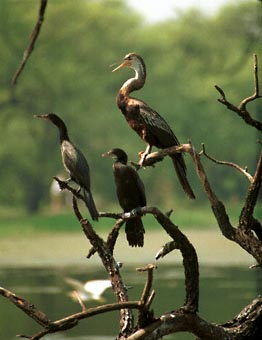 Agra, page 4 of 5
The next day we forget everything bad about last night during our visit to the Keoladeo National Park in Bharatpur, about 40 kilometers from Agra. We went there with a taxi, because later on we wanted to visit also Fatehpur City, the famous lost city. Keoladeo National Park is a bird paradise.
Biking in this park is a very refreshing experience after all the bad air of Agra, Delhi and Jaipur.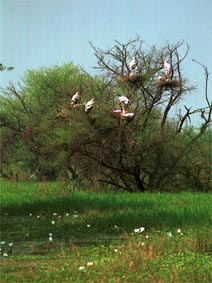 Usually we don't take guides, but here we make an exception hoping he will show us a lot of species we would never see on our own. And we are certainly not disappointed!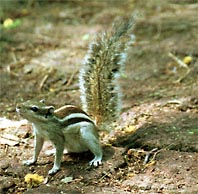 Our guide, Rakesh Solanki, who is a certificated ornithologist, knows exactly were to find all birds and shows us at least 50 of the more than 400 kinds of birds that have been recorded here. He seems to feel where they are rather than see them, sometimes it took us a couple of minutes with field-glasses before we saw the bird he meant!
We like especially the painted storks, which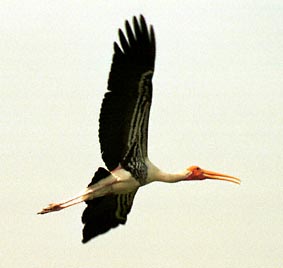 make big nests in trees standing in the water that is abundantly available now, so short after the monsoon. No wonder there are so many children born in India! (You of course know where the babies come from? If not I can tell you now what every child used to know in Holland: storks bring in babies. This must certainly be true: look at the number of baby's born per 1000 inhabitants of Holland, this decreased steadily with the decreasing number of storks in Holland, while in India everything is still the same!)
Further we saw cormorants, ibises, honey-birds with enormous nests, woodpeckers, a poisonous lizard, spoonbills, water snakes, ducks from Kashmir, impressive very silent owls with only one eye open to watch us (without guide we would never have seen them!) and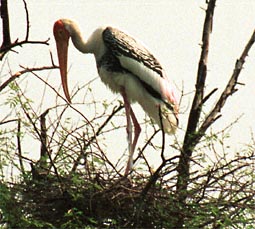 of course the amusing tame squirrels, which we saw also in the gardens of our different hotels.
During our tour Rakesh not only tells a lot about birds, he answers also all our questions about arranged marriages - I can't remember who started this subject (certainly not me?). His parents arranged his own marriage when he was still a
teen and his bride was only 10 years old! The marriage took place, but he had to wait 7 years till they could live together. He was very happy now and had not a doubt about this system. I started to wonder if your changes to be happy really increase that much when you can choose yourself. And when things don't go right you can always blame your parents! (Of course we can too!)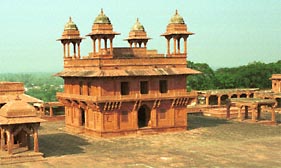 We went on to Fatehpur Sikri. Very ideal, to have a taxi for yourself. You can do things that aren't possible when you have to use busses and trains and we paid only some 35 Dutch guilders (16 euro). In India we really are rich!
Fatehpur Sikri is a ghost city.
It was the capital of the Mughal Empire during the reign of Emperor Akbar around 1575. Fatehpur Sikri served only 15 years as a capital, and both the start and the end of the city is not quite clear. This short inhabitance gives us the opportunity to watch a real Mughal city, as it must have been more than 400 years ago. We were lucky to visit the city on a very quiet moment (of course it was in the middle of the day and terrible hot) and had only the ghosts to deal with.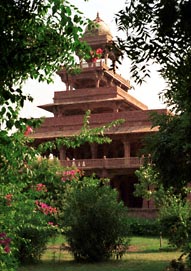 They liked to play hide and seek with us, maybe one of them was the ghost of the emperor, who made a whole building full with pillars and extra rooms, everything beautifully decorated, to play hide and seek with the ladies of his harem. Jacques suddenly seemed to have little problems to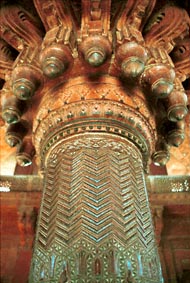 imagine life in the past!
The last part of Fatehpur Sikri is the Jama Masjid, the Dargah Mosque. Very beautiful, but it is a pity you don't have to pay any entrance fee! We are very Dutch, so we try to avoid paying whenever possible. But in India we really to prefer to pay, because then we only have to deal with some professional or a bit less professional guides. When we don't have to pay we have to deal with 'students', who like to 'practice their English'. They make very clear that they are no guides and they don't want any money, that is, till you try to leave without paying. And it is not only the paying what is the problem (even for us Dutch people!), but the fact that it is impossible to spent one quiet moment alone to enjoy the immensely beautiful surroundings.
I made a picture of some children, they seem to be so sweet but - I'm sorry to have to say this - the character of the girl in the middle resembles that of a mix between a pitbull and a shark. It is very sad that children are forced to live like this, school isn't free in India
and you can earn much more with begging than with going to school. The caste system in India, which is still very alive, makes changes difficult. When you believe it is your own fault that you are born in this situation in life, because you didn't behave right in you last life and you have to improve, nobody can help you of course. This sounds a little bit like some Christian theories according which you even have to be happy to be poor and to know nothing, because with money and knowledge you have a much smaller chance to enter heaven…
---