Christmas barefooted
Melbourne - Toora - Wilsons Promontory NP
Click on a picture to enlarge. These pages show only a small selection of the 400 pictures of Australia. Order the CD to view all pictures full screen (800 x 600 pixels) and to enjoy the slide shows with original music! The CD offers you also the complete interactive story, suitable for quick viewing and printing.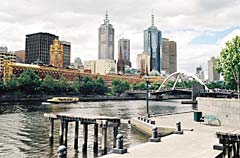 Melbourne is crowded
with people doing their Christmas shopping. It is the 24th of December. The city is fully prepared for Christmas with huge Christmas trees, Father Christmases in front of shops, big bells and angels hanging from ropes with colored lights over the streets. Christmas carols are spilling out of every shop, jamming with the noise of sales people promoting their business ("Last chance, last chance…"), cars and passing trams, equipped with loudspeakers emitting previews of movies. Like in Adelaide we found it difficult to adept to the city after weeks of freedom and quiet, but now it was even worse because of the crowd.
A bit outside the center we visit St Patrick's Cathedral, certainly a quiet place. The Cathedral is a big, imposing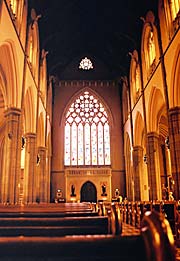 building in revival gothic style. It is surrounded by water and flowering trees, which softens the total impression. Inside we look at the beautiful leaded windows. We spend half an hour reading through the collection of serious booklets, intended to inform the desperate Christian on how to tackle problems regarding marriage, children, divorce and even sex, featuring titles like: "Divorce happens", "Natural family planning" and "How to get an annulment". Very informative.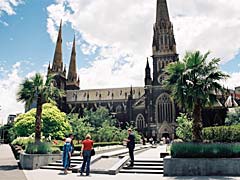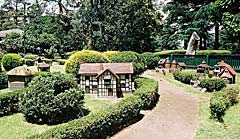 The nearby Fitzroy park is fairly quiet, a beautiful park with a miniature 'Tudor Village', resembling our Madurodam and a Fairy Tree with carved and painted elves and kangaroos. Intended for children but irresistible for most women. Gardens are certainly a strong point of Melbourne.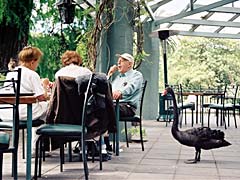 We visit also the extensive Botanic Gardens with much water, sloped greens, all kind of exotic trees and plants. We take a drink on the terrace of the restaurant and enjoy the view over the water. An enormous big black swan terrorizes the restaurant guests, demanding food at every table. With its beak conveniently just above the table it eats directly from the plates. It clearly has a preference for French fries and for tables with young children, who are afraid for the daunting swan.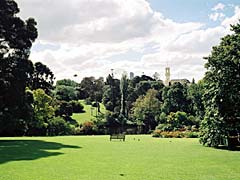 Further on in the Botanic Gardens we see signs warning us for 'fruit bats'. We look around us. No fruit bat to be seen. But then, when we walk a bit further, we see some bats hanging from branches high in trees. And then we see more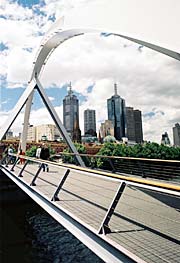 and more fruit bats. We read on another informative sign that 10 years ago the fruit bats left this region altogether. The park did an experiment to try to start a colony of fruit bats. This was not very successful in the first years, but gradually the bats adapted and now there are some 20.000 bats, and they make a big nuisance of themselves. Sometimes they bite people, which can be quite dangerous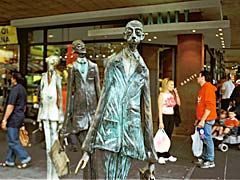 because of diseases they carry. So now the park found a new home for them and tries to encourage them to go there by making a lot of unpleasant noise etc. This is a good example of how you can always keep yourself busy while preserving nature. I like the bats: when they hang in the trees they look like bird nests, when they fly they are like birds, when they move around in the trees they use their hands in the middle of their wings and are just like small apes and when they land, they catch the branch with their feet, make a half giant turn and slowly swing while hanging upside down. Very funny to watch.
We walk back in the direction of the center of Melbourne, meeting many people on their way to a Christmas concert in the park, carrying blankets, cushions, food and lots to drink.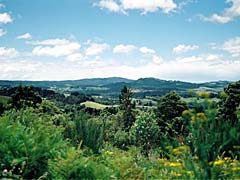 From this side of the Yarra river the view over Melbourne is picturesque, a mixture of modern high buildings with a lot of metal and glass and older, colorful buildings like the old railway station. Yesterday we visited the Chinese neighborhood, tonight we eat in a Greek restaurant a delicious albeit not very orthodox Christmas dinner – tomorrow we leave for Toora in the South East at the coast, close to Wilsons Promontory NP and we'll probably make our own not so very special Christmas diner. On every table of the restaurant is a candle and the place is decorated with greenery and white lights. Next to our table humps of fake snow are covered with small presents. But the sun is still shining outside and people are walking in shorts and t-shirts. For us West-European people the Christmas feeling springs from darkness outside, maybe some snow but at least ice cold rain, blown against the windows by a strong wind. Inside the warmth of a fire or a stove, soft light of a lot of candles and the colored lights of the Christmas tree.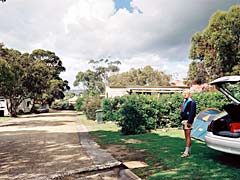 The next morning, Christmas morning, it is raining. It is also quite cold and when we come closer to the coast the wind is blowing full force. Obviously the weather is trying to do its best to improve our Christmas feeling. The problem is the light. In Australia it never gets as gray as in Holland. Even when it rains the light has a special quality, difficult to explain, it remains light while in Holland the last light in the afternoon of a rainy December day seems to enhance the gray only. OK, I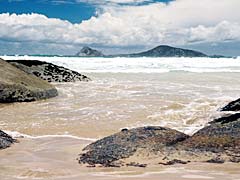 will stop about the light, don't worry. In Toola, a place close to the coast some 30 kilometers above Wilsons Promontory NP, totally filled up at this time of the year, we find a camping without any problems. The owner of the camping is busy with his Christmas dinner, but takes the time to give us a place where we won't have to much trouble with the rain, which is quite heavy by now. When we have a short dry spell we take a drive in the neighborhood, very beautiful hills in the low light, the sky full of white clouds. The wind from the sea is very strong.
In the evening we make a simple dinner and sit together with the other camping guests, Australian, Turkish with one Dutch woman, Austrian and French people. There is lots of
space in the TV room, a big room with a stove, a table for playing table tennis, old easy chairs and the TV. The Australian family is sitting in front of the TV, close to the stove. They wear thick sweaters but walk barefooted right on the concrete floor. The little boy is obviously very cold. I say to his parents that it always helps me when I'm very cold to put something on my feet (I'm wearing two pair of socks, shoes, long trousers, two t-shirts and a thick sweater). They nod friendly but totally ignore my advise. Yes, it is very cold, extremely for this time of the year they agree. So bad with Christmas. Walking barefooted symbolizes freedom for the Australian people. It is the one thing they took over from the Aboriginals. Walking barefooted means you have contact with the earth, with reality. So they don't mind about a bit of cold or dirt.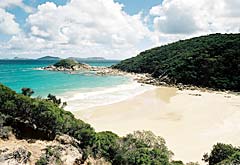 That Christmas night is was very cold in our tent, so I slept closely together with Jac, who for once didn't open the
sleeping bag to cool his feet. The next morning we have a little bit of sun and then again a lot of rain. I very much like to visit the famous Wilsons Promontory NP so we try anyway. In the park it rains also but when we leave the fields and the mountains and reach the coast the air clears. Clouds
hang about above the mountains but at sea it stays dry. We walk around dazzling beaches and enjoy the sharp air, the wild surf and the strong wind. The beaches have white sand and big, dark and white colored stones. Further on in the ocean we see a lot of small islands. It is very quiet here and incredible beautiful. In the trees I spot crimson Corellas, very shy birds normally but here they fly from the trees right onto my open hand when I offer a bit of nectarine. I'm very excited and Jac has to feed the Corellas a lot of bread, so I can take pictures. Tidal River, the only place in Wilsons Promontory where you can buy something to eat, is filled up with freezing camping guests, daringly clothed in bikinis, children playing in the water in total disregard of the temperature. I see a lot more crimson Corellas and even three black Cockatoos with red heads, safely staying in their trees but looking interested at my attempts to photograph them with my big black 300 mm lens. This surely has been a very special Christmas!

Back to Virtual Traveling home