Meeting kangaroos, cockatoos, emus and seals
Flinders Range - Adelaide - Kangaroo Island with the Flinders Chase park
Click on a picture to enlarge. These pages show only a small selection of the 400 pictures of Australia. Order the CD to view all pictures full screen (800 x 600 pixels) and to enjoy the slide shows with original music! The CD offers you also the complete interactive story, suitable for quick viewing and printing.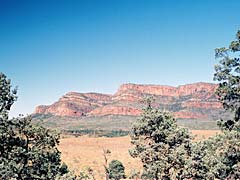 The Flinders Range is a rugged mountain area 600 kilometers above Adelaide. Late in the afternoon
the sun beautifully illuminates the red, white, green layered flanks of the mountains. When we arrive in Wilpena Pound we have to ask the time. Time flies through our fingers, three months is not so long as it seems and while driving east over the Eyre highway we lose hour after hour (major confusion with daylight saving time operating in one state but not in the other). The exact hour is not very important since we live with the light, that is until you want to buy a nice cold whiskey cola or a big bag of chips or other elementary food in the only available shop that closes at 6 sharp. Luckily we are just in time and we enjoy the whiskey cola sitting on the terrace in front of the shop. The sun is warm and the high trees in front of us are filled with large groups of noisy cockatoos. A daring honeysucker lands on the table next to us and meticulous removes each leftover crumb of bread.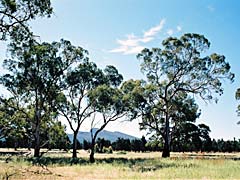 We cook something simple at the outdoor cooking place, talk with other campers – when you are in Holland traveling for three months seems rather extreme, here it appears to be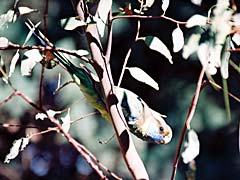 the bare minimum – drink Shiraz wine and read. I'm reading a spiritual book about the aboriginals and my imagination runs away with me. We only saw aboriginals in Perth, mostly drunk, tramping in Perth isn't a very spiritual experience I'm sure. Reserves of the aboriginals are located in the worst parts of Australia where nobody else wants to live or has anything tourist to explore. Anyway, in this book everything is full of meaning and understanding. It is getting very dark. The moon has not yet risen and in between the tops of the trees we see stars. The sounds of the cockatoos and lorikeets are quieting and we hear only the uhu – uhu – uhuueee of the crazy Australian ravens, like horny cats crying out loud and slowly
dying away, answering each other from their strategic positions high in the trees. We go back to our tent. At least, that is our intention. Our tent, situated on a 'bush camping' place in between trees, is close to the cooking place. It can't be more than 100 meters from where we are sitting. But we can't find it. It is to dark. "Don't you have a torch?" you ask of course. Yes, actually we do have a torch, albeit a very small one. The major problem is the torch is in the tent. From the cooking place, luckily still lighted, I know to find the (dark) shop. From the shop we know to find our tent, just follow the road. Difficult to follow the road, we have to feel with our feet when we leave the asphalt. After half an hour we finally succeed in finding our tent. When I visit the toilet I wisely take the torch with me, but still I have difficulties finding the tent… So that is what they mean with a 'bush camping' place.
The next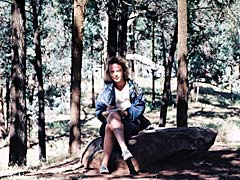 morning during breakfast Jac feeds the nice honeysucker that is not afraid at all. Signs everywhere have instructed us not to feed birds, kangaroos and emus, since it are wild animals and should stay wild. Furthermore the kangaroos and emus can get quite aggressive the signs warned us and attack small children. They forgot to warn us about small birds getting quite aggressive. Minutes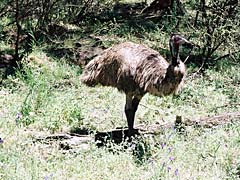 after Jac feeding the honeysucker, birds are everywhere. Hitchcock pales compared with the number of birds sitting on our table, next to us on our bench, on the ground, on the fence around the cooking area, a little bit further away in the bush watching us from every tree. We see all kind of birds, the honeysuckers of course, ravens, lorikeets and magpies. We have to defend our bread if not ourselves!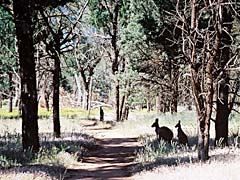 We surrender the rest of our breakfast to the birds and begin the 'Bridle Gap' hike, a 16
kilometer walk through the floor of Wilpena Pound, starting at our camping with as farthest point the 'Bridle Gap' between mountains of the Flinders Range, where you have a nice view looking over the bush at the Elder Range mountains further away. Close to our camping we see all kind of parrots, corellas, cockatoos and lorikeets and even a white heron. We see big emus so close by it is almost scaring, what a strange birds. We walk on the floor of Wilpena Pound in between fields of flowers, yellow, purple, beautiful contrasting with the green grass and the dark green pines. Wilpena Pound is a bit like paradise: we are alone in the beautiful nature,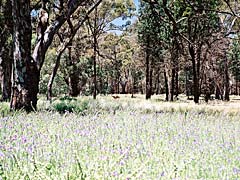 wild animals are not afraid of us and even the flies are a little less boring than usual! Up in the mountains we see a big goanna and on our way back we see lots of kangaroos. We have to train ourselves to see them at all, they nicely merge with their surroundings. At last I get very experienced at noticing kangaroo ears all around us and it is surprising how close they are and how interested they are in us. The walk is not very difficult but it is a bit long, 16 kilometers. Jac complains I always take the longest or most difficult walk (which I would like to do, but Jac boycotts such a walk since it takes more days) and as we didn't leave so very early in the morning (you can always trust us to climb mountains on the hottest day on the hottest moment) we are very happy to reach the shop with the whiskey cola for the second day in row just in time!
The following breakfast Jac wisely refrains from feeding the birds and instead we are visited by local kangaroos. Very strange to eat your breakfast next to a kangaroo! We drive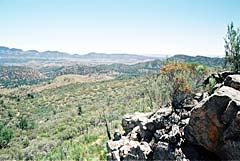 around in the Flinder Range, go and see aboriginal engravings in a sacred canyon (a bit difficult to distinguish the real aboriginal art from recent imitations), meet large flocks of emus and especially our journey into Brachina Gorge is very interesting. According to the woman in the information center the Gorge should be just accessible for normal cars, that is non 4-wheel drive cars. Since my experience in Kenia I believe to be quite rally-proof and gorges are irresistible for me as Jac can assent. Brachina Gorge is as isolated and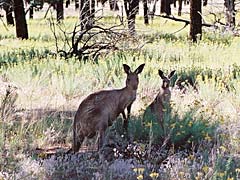 wild as I can possibly wish and the walls of the gorge are very special with their red and white colored layers. The road however is a little bit worse than expected, full of holes, stones and puddles with water. Now and then we have to cross small streams or even complete rivers. Every holiday we have moments we miss a 4-wheel drive. This holiday we have even more of those moments… The car doesn't get stuck but the bottom bumps with nauseating sounds on the large stones and Jac thinks we can definitely forget about our 1000 AUD guarantee when I drive a bit close by a thorny bush in an attempt to avoid a real ugly pothole. Anyway, a very exciting experience!
Shortly after leaving the Flinders Range I see a notice: 'Mobile Phone Area'. And indeed, my mobile phone works! When I try again some 10 kilometers later I find we left the mobile phone area already… This is a totally different concept of mobile phone: you take your mobile phone to travel to the small area where the phone does work…

Click on the arrow for the sequel of this story.
Back to Virtual Traveling home